Know exactly what you're getting.
We offer a variety of products, food, and medications to keep your pet happy and healthy. Our in-house pet pharmacy is stocked with parasite preventatives and prescription medications used to treat injuries and illnesses of all kinds.
For your convenience, we offer in-house refills or refills through one of the following pharmacies.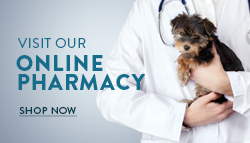 Request refill for pick up at our practice >
Golden Gate Pharmacy
Online and pickup are available.
8 Digital Drive, Suite 200, Novato, CA 94949
(415) 455-9042 Fax: (415) 455-9318
ggvcp.pharmacy
Wedgewood Pharmacy
Online only.
wedgewood.pet
855-490-7699